SOCIAL MEDIA MARKETING SERVICES
We are in an age where more than 70% of consumers expect a brand to have a social media presence. But, not just any social media presence—consumers expect your brand to have a tailored, cohesive social media strategy.
Almost every business can benefit from social media marketing services. While most companies know they should be using social media to market their business, they don't know what networks to invest in—Facebook, Instagram, Twitter, LinkedIn, etc.—or how much, and that's where our social media management services step in. Blue Corona's social media management and advertising services remove the complexity of social media for business owners and let you stick to what you know best—running your business!
What's Included in Our Social Media Marketing Services
Our process for social is similar to our approach to marketing in general: TRACK > TEST > TWEAK > REPEAT. Simply put, you can't maximize what you fail to measure and track. Better data equals better results. Learn more about our social media services list and packages below!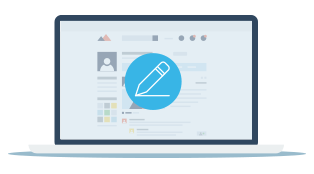 TRACKING YOUR SOCIAL CAMPAIGNS
your audience and reach
Optimizing engagement rates
Optimizing click-through-rate and leads
Optimizing your ROI on paid social campaigns
MANAGING & MONITORING YOUR SOCIAL REPUTATION
Social media reviews
Social media feedback and sentiment
Social engagement from campaigns
Monitoring brand mentions